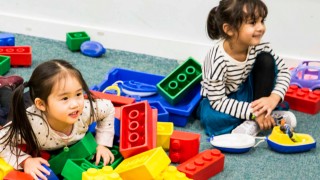 Why Children's Communities?
There are three key reasons why Children's Communities are both necessary and exciting:
One. Children's lives and outcomes are shaped by a very wide-range of interacting factors. As babies and toddlers, they are heavily influenced by family relationships, home environment, broader social circumstances, local services, and the support available to their parents from neighbours and friends. When they get older, children spend 190 days per year at school (around seven hours per day) and 175 days in their homes and communities, suggesting there are significant limits to what teachers alone can do, and that multiple other influences are likely to be important. What's more, children's physical and mental health, educational achievement, confidence, self-esteem, and future employment prospects are deeply interconnected and cannot be properly understood in isolation.
In disadvantaged neighbourhoods, children can face multiple and overlapping social challenges, so that action in any one part of a child's life risks being undermined by problems in another part. Conversely, in better-off areas, many children benefit from customised care and support to meet their every need, and a dizzying array of learning experiences that occur round-the-clock and 365 days a year. It is little wonder that traditional policy efforts have struggled to narrow outcomes gaps between rich and poor. For areas with complex social problems, we need a new, more integrated, and coherent approach to supporting children and families and to challenging inequalities.
Two. Different places (including places with similar levels of economic disadvantage) create different dynamics, pose different challenges, and offer different opportunities. Top-down initiatives come and go, each with a focus on particular problem areas, but rarely with much understanding of the whole picture, the distinctiveness of local characteristics, or the strength and capacity for self-support that is inherent in most neighbourhoods. There is an urgent need to reframe these deficit narratives, to address local contexts, to harness the power of local assets and networks, and to create locally-led and long-term plans for transforming children's futures.
Three. Now more than ever, there is a need to get the maximum value from every pound invested in local neighbourhoods so that children get what they need. Big injections of additional funds to help overcome entrenched social problems are not on the horizon. Subsequently, we need to cut-out duplication and sharpen each area's collective offer to the next generation. It's time to cut through the bureaucracy and align our efforts at a local level.
A Children's Community is:
A NEIGHBOURHOOD: Children's Communities are located in disadvantaged places with a history of partnership working for children and a collective commitment to take this to the next level.
A SHARED VISION: Local services develop and implement a coordinated plan for helping children thrive, based on a shared vision for children and a shared analysis of children's needs.
INTEGRATED AND HOLISTIC: Children's Communities support children in the round and across the different stages of childhood, helping them to transition between family, school and community.
GENERATIONAL: Children's Communities work over the long-term. They tackle presenting symptoms and underlying causes simultaneously.
POWERED BY LOCAL VOICES: Children's Communities are locally led. They identify their strengths, harness the power of local networks and relationships, and support people to find their own solutions.
NATIONALLY EVALUATED: The Children's Community project is underpinned by a body of research and evidence, and is being nationally evaluated by Sheffield Hallam University.
The Children's Community Network
The Children's Community Network supports the development of Children's Community sites. The Network holds regular Governance Days and Learning Exchanges, to oversee the national initiative and to make sure the sites can learn from one another and the best national and international evidence and practice.