You are here: "The power of an inspiring young person and finding common ground"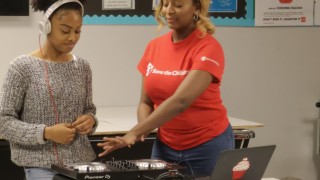 "The power of an inspiring young person and finding common ground"
22 March 2019
"We were delighted to host DJ Cuppy, internationally renowned DJ, musician and entrepreneur, at Pembury Children's Community last Thursday 14 March, along with her colleagues Elizabeth and Stephanie. Cuppy has recently become an Ambassador for Save the Children UK's African Advisory Board. She's passionate about our global work and wanted to see some of our UK work in action. Her UK base is Hackney so we thought where better than Pembury?
It was a great chance to tell her about our mission to narrow the gap in outcomes between children growing in poverty and their better off peers, our aim to influence local and national systems, and our place-based work. She was surprised to hear there are over 4 million children growing up in poverty in the UK, and how early and quickly poverty squeezes the space for children's learning.
We described how the Pembury Children's Community emerged from the experience of the riots in 2011 and how the approach brings together local people, community groups, services and leaders in a new alliance for generational change. We talked about the strength of working together with a shared vision for a neighbourhood where people are proud to live; a community where people from all backgrounds come together, where everyone matters and there are opportunities for all; and a place where young people are encouraged, inspired and empowered to get the best out of life.
Two young people from Pembury – both keen music makers, one with her own decks at home! – then showed Cuppy round the Centre, telling her about the activities they're engaged with. Then it was time for the main event: a DJ Cuppy workshop for about 20 young people. As well as sharing her DJ techniques, Cuppy talked about how education was key to getting to where she is now. She talked about how it taught her to respond to what's going on around her, to stay on her toes, to make relationships and connect with other people. It's where she learnt the importance of practice and of craft. Above all she said it's how she learnt how to push back when she encountered resistance as a female DJ, how she got the confidence, the drive and the motivation to kick down doors, and how she became 'a better version of myself'.
It was inspiring stuff, told against a background of Afro beats and laughter. The audience asked some great questions. Are people surprised to see a woman DJ? Yes – she sometimes gets met with 'Hi – so where's the DJ?' Does she work all round the world? Yes, but London and Lagos are home. Where did she get her name from? Her love of sweet things and especially cupcakes! And does she ever get stage fright? Yes – but it's much more scary doing a small workshop like this one than DJ'ing at a festival for tens of thousands of people.
Well Cuppy, it didn't show! I was struck particularly by three things. First, the power of an inspiring person who is open and direct about their experiences. Second, the power of music as a way of story-telling and finding common ground. And third, the importance of approaches like the Pembury Children's Community with its focus on holistic understandings of children and young people, on reaching out to them where they are, and on working with the strengths and capacities of young people and families who want to be the best versions of themselves."
Blogger: Jane Lewis